Biote Pellet Therapy for Hormonal Imbalances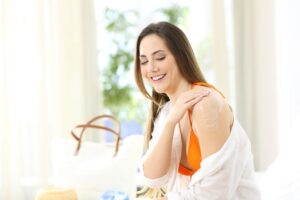 Taking care of the body is important, especially as adults age and progress into the later stages of life. However, one noticeable sign of aging is reduced energy and increased ailments. To feel youthful, some patients may need assistance in balancing the hormones, which can often change over time and result in deficiencies. Once corrected, many of these deficiencies are addressed and patients will feel younger, more vibrant, and more energetic than they have in years!
At Emmett Plastic Surgery in Lone Tree, CO, patients can ask about hormone replacement therapy using BioTE pellet therapy.
What is BioTE pellet therapy?
BioTE is a specialized treatment that can be used in balancing the hormones and addressing deficiencies that may be impacting the health and quality of life of our patients.
BioTE pellet therapy utilizes pellet that are injected into the body and dissolved into the bloodstream. These pellets contain the specific hormones patients require to feel their best. Due to the slow release of hormones into the body using the pellets, the hormone levels stay stabilized over several weeks. Patients will return to the office to receive pellet therapy on a regular basis to maintain their hormone levels.
What are the pellets made of?
Hormone pellets used in BioTE pellet therapy are constructed of human-identical sex hormones derived from plant sources. This ensures the hormones are natural and not artificially created. Each pellet is customized to meet the specific needs of the patient to ensure their hormones are balanced appropriately.
How are the pellets administered to the patient?
The pellets are administered during an office visit to Emmett Plastic Surgery, during which the pellets are inserted into the body in the fatty areas of the buttocks, abdomen, or hip area. A local anesthetic is used to make insertion comfortable.
Learn more about BioTE pellet therapy today!
Dr. Jennifer Emmett of Emmett Plastic Surgery is pleased to provide patients with solutions to help them look and feel their best. Patients interested in anti-aging solutions such as hormone therapy are welcome to call (303) 536-3531 to schedule an appointment. During a consultation visit, patients can learn more about BioTE pellet therapy and decide if it is right for them!
Posted in: BioTE® Pellet Therapy